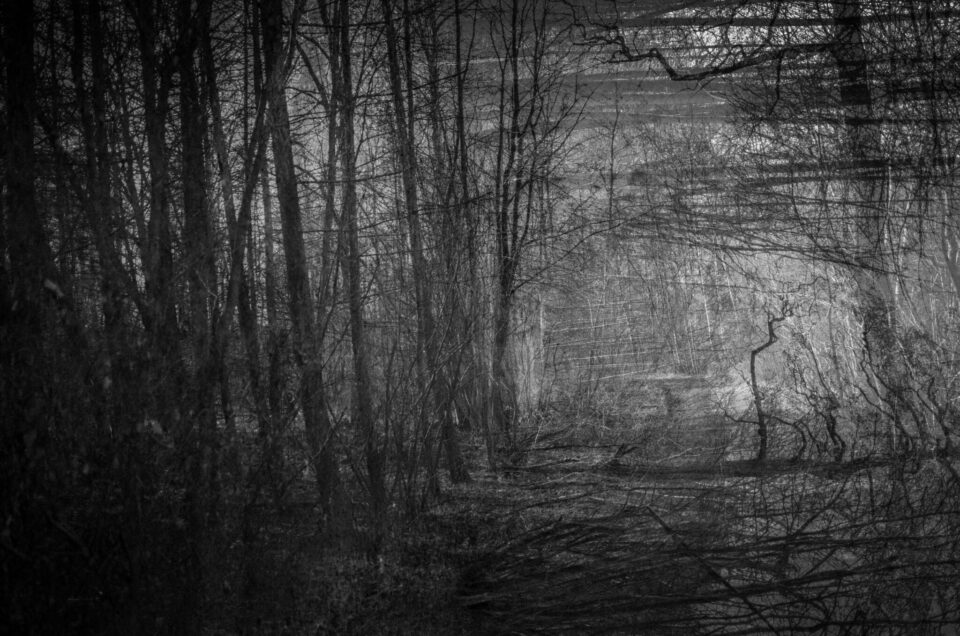 Monochrome Photography is mostly just black and white photography or Noir. To some, it's an art or even abstract. To me, it's definitely a way to express myself perhaps even a getaway from what's expected.
If Monochrome Photography links to self-expression as an art form, then I declare myself an artist in the genre of Monochrome Photography.
This is my safe place to exhibit my interest in anything not commercial and no way near perfect. Some will argue that this is nothing, but to me it's everything. An antidote to the social media perception of what likeable photography should look like. 
The first step towards getting my abstract vision out of the comfort zone and out into the world of viewers for them to do their interpretations of my work. Not really certain whether I believe worthy of the space nevertheless 100% dedicated to the process because I know what this category of photography means to me.
Can photography be a form of art?
Here in Denmark where I live, most people would not perceive photography as art. Would not pay for it either! But on the other hand, they gladly spend money on a poster of a well-known bridge or an opera house. Luckily for me, my work travels across the borders of Denmark, out in the world of appreciation for the black and white photography genre.
In Monochrome Photography you can find and appreciate many genres. From a merely grayscale conversion of a certain picture to categories like monochrome street photography and even Boudoir Noir. Even though we have like millions of colours to work with, something draws me towards the dramatic contrast that the black and white universe provides. Something that loads of photographers like myself have come to appreciate more than any other form of photography.
The layers in black and white photography seem enormous. Some if not all layers can be fueled into the story. Perhaps the untold perfection adds to the feeling or to the situation. Photography Noir is much more about the untold story.
Black and white photography art, quite unexpected to most, offers a diverse impression as the light of day travels through the picture. Adding to story, perception and appreciation as this art form reveals new discoveries during the day. Something that really intrigued me when I first discovered this hidden element.
Thus this deep interest in this genre. Taken to new dimensions just by adding movement or a distinct blurry element to the photography
Photography is about painting with light. When you add none technical contrast to a specific scenery can change the mode dramatically. I literally could go on!
What is art in photography?
I really don't know! But just because I declared myself an artist, doesn't mean that I make art! That is not for me to decide but for spectators to review and critique. The only measure I have is whether the masses find my Photography Noir interesting enough to buy. And if that's a plausible measure I already feel the recognition. Are you interested then don't hesitate to ask for further information of one or more of the pictures on the inspirational board teasing this part of my obsession with photography. 
To me, the BnW obsession started with a trip to Venice with my wife 5 years ago. A demand for a new perspective on this beautiful city was ordered. We proudly call our photography business for Oddhunt Photography so we would look for a different perspective. That's as you'll know, near to impossible when it comes to photographing Venice. Or so I thought! 
We put a lot of work in understanding the history and all the millions of interpretations. Funny thing was that everyone seemed to aim towards the same amazing scenery at sunset. Embracing the beautiful colours and overwhelming scenery. Black and White took the lovely city of Venice back and created the focus I was missing. Thus the name of the Gallery exhibition 'Venice for the first time…since'.
This project kickstarted the eager after more Noir projects. It also started the search through the archives and history for a better understanding of the process in the darkroom but that was barely the technical part. The thing about modern technology is the aim for perfection. There are no feelings evolved in perfection, it might sound stage, but for me, perfect is too easy. Giving the spectators something too perfect does not intrigue the mind enough to go explore further. What you see is what you see and that's the only thing you're getting!
Here we could discuss how to understand art!
Who in their right mind has the final answer to that question? Thank goodness for that because then we would have the same interpretation and how boring would this then be, right?
I don't believe black and white photography is only getting out of a good old fashioned film camera. It really doesn't matter what equipment that photographers have been using. I admit that some level of creativity is better turned into a beautiful story through an old camera like my 6×9 Agfa from 1954.
Monochrome Photography to me is about a state of mind and feelings that specific day. But don't think for one second that it's about me being dark on the inside of my curiosity and opportunistic outside, because nothing could be further from the truth.
As I'm writing the post, I'm eager to explore this universe even deeper and for now, this development will surface here and I do hope you will take a moment to look further and deeper – even reach out to me to get information or just understand how this interest can get me going for hours.